Watching writing evolve in Google Chromebook Classroom
Reflections on the Chromebook!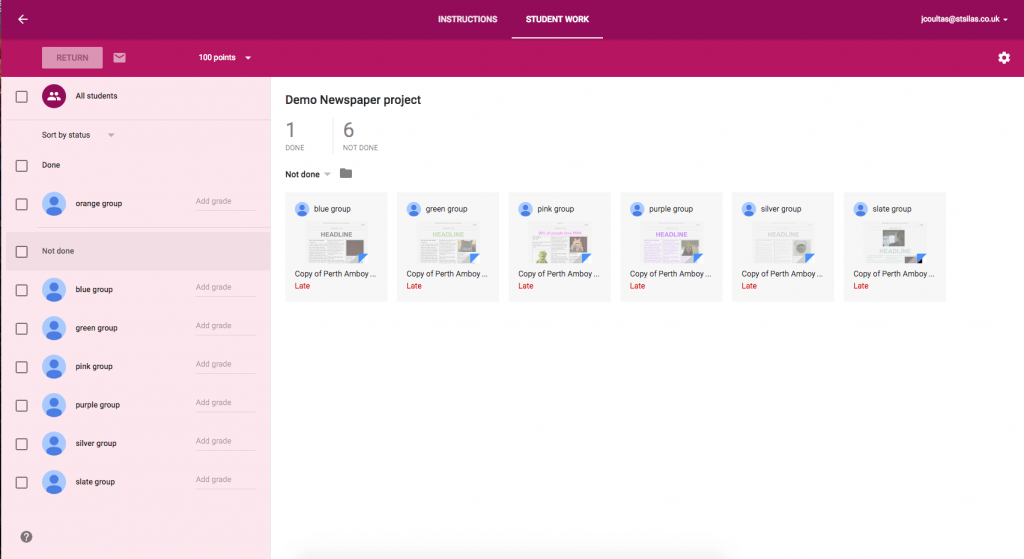 Watching writing evolve in Google Classroom!
Having spent a year using Chromebooks alongside iPads with Year 5 and Year 6, I thought it might be useful to share some thoughts on our progress. In a fast moving technological era, it maybe isn't too surprising that many young people don't have access to a traditional computer experience at home. This becomes a challenge for primary schools that are preparing learners for high school,  where they will be using more traditional menu-driven software and home folders.
Like many educators, we love our iPads because they really were a step change in what was and possible in the classroom. For us, they still represent the best value for content creation hardware. However, most children are not  going to move to high schools where the iPad is the dominant platform, so preparing them effectively can be a challenge.
We could have Macs that run both OSX and Windows. If the budget allowed, that would be perfect! However, for most schools this isn't financially viable. This is where the Chromebook starts to make sense. It will never offer the fun digital content creation options of the iPad, but it does offer a "grown up" way of working, complete with the responsibility of logging in and out and managing a password. These skills and experiences alone help build confidence for the transition to high school.
The children were as excited by the prospect of using a £160 Chromebook as they were a £330 iPad. Even though in many respects they feel cheap and somehow slightly old fashioned, the children really enjoy using them.
In order to really make sense of a class set of Chromebooks, schools need to set up Google Apps for Education. This was easy to do and provided not only all the Year 5 and Year 6 children with a "managed" email address and unlimited storage, but of course these benefits also apply to all staff in the school. Immediately  the whole school was connected.  Even if the staff don't use Chromebooks, having all staff on Google with unlimited storage makes sense.
In the classroom, the need for more than one platform comes into sharper focus. Initially, early lessons were a little stressful! Less confident student learners were often struggling to remember passwords. Making the teachers administrators and having the Google Admin app on an iPad has helped soothe these administration issues. Passwords can be reset in seconds with the app.  Having said that, once children have got into a working routine, the passwords and user names became lodged in muscle memory!
It has been fascinating supporting learners struggling with a track pad. The motor skills required by children for selecting and clicking on a trackpad can be a challenge. Likewise, menu-driven options are a new concept for most children who have grown up with tablets. Even though children might have used the "shift" key on an iPad, they seemed a little confused when faced with it on a Chromebook. The idea of a two finger click on the trackpad (like a right click on Windows) was also initially confusing but, over time, ultimately empowering.
Having the responsibility for a virtual space and organising folders, even colour coding them, has also helped develop organisational skills that are easily lost in an iPad-only environment.
Being honest, the kind of practical activities on the Chromebook we have covered have been basic, covering old school secretarial skills such as formatting and justifying, taking control of the page. Some of these things can be managed on iPads, but the more formal aspects of writing and drafting are more efficiently managed on the Chromebook.
Here are some of the key experiences that excited learners.
Learning keyboard short cuts – we take these things for granted, but they are exciting for the iPad generation.
Switching on the "Research option" in Google Docs so that your research appears to the right of the page has been particularly useful. It is then easy to copy and paste content from the research window into your document.
Adding additional fonts for projects, something that is not easy to do with iPads
Sharing docs and files with peers.
Working on a collaborative document (seeing each other's ideas emerge in real time within the document).
The new Google Sites – just launched  in Nov 2016 – has enabled all students to build their own sites that are content-rich and compatible with all computers, tablets and smart phones.
Staff have enjoyed:
using Google classroom and being able to display a live editable student document within their own browser. This is a great way of teachers being able to manage how and when a student's work is shown on the classroom screen. (See demo screenshot.);
collaborative documents with colleagues;
the ability to provide instant feedback on a child's document;
templates shared by other teachers, for example fliers and newspaper layouts;
unlimited file storage;
being able to access files on any device.
The tech support people have enjoyed:
the fact that there are never any updates. Each time a Chromebook opens, it refreshes and simply offer the latest versions;
almost no hardware problems;
good battery life;
Chromebooks being managed alongside iPads in Meraki.
The Chromebook/iPad combination has enabled us to work in different ways, mixing traditional ICT/office skills with the more contemporary approaches of the iPad. With Google drive and Google Apps installed on iOS devices, our creative content can be moved easily. Google apps have a single log in and log out on the iPad. For example, if we log into Google drive on a iOS device and then open Google Docs, the app will know who the student is  and simply open. Like-wise, when we log out of one app, we log out of all of them.
Our only regret was initially buying only 16 Chromebooks and not a class set. The minute we moved to 32 devices it made planning and delivery much easier.
The Google experience doesn't have that disruptive and wow factor of the iPad. Instead, it offers a calm and connected way of working. Sure, it is covering the more traditional aspects of technology, in the form of office applications, but there are signs that Google is evolving. Both the new Google Sites and the Toontastic 3D iOS app are examples of well thought-out creative tools that work well in school.